Spectroscopy of isolated chromophore ensembles (SPICE)
Molecular complexes, aggregates and larger nanostructures made of organic molecules form the basis in organic photovoltaic and optoelectronic devices. A better understanding of the photoexcitation-driven processes in these systems is thus of high interest and may help optimizing designs to achieve higher efficiencies and better functionalities. The dynamics in these multi-chromophoric systems are dominated by cooperative processes. Electronic excitation of the system leads to the formation of delocalized excitons. Important questions are how excitation energy is transported through the molecular networks (exciton migration), avoiding loss processes (exciton annihilation) and exploring new schemes to enhance performance (exciton fission).

In this project, we follow two unique approaches to study organic chromophore ensembles by matrix-isolation techniques. On the one hand, we study single, isolated species and molecular aggregates prepared inside helium nanodroplets (Fig. 1a). On the other hand, we investigate molecular networks formed on the surface of solid rare gas clusters (Fig. 1b). These well-controlled nanosystems prepared at low temperatures (0.4 – 10 K) allow for flexible tuning of intermolecular and system-bath couplings. The molecular systems can be spectroscopically resolved with a precision never achieved with other methods (Fig. 1c). This allows us to gain a fundamental understanding of the interplay between geometric and energetic structure and its impact on the cooperative exciton dynamics.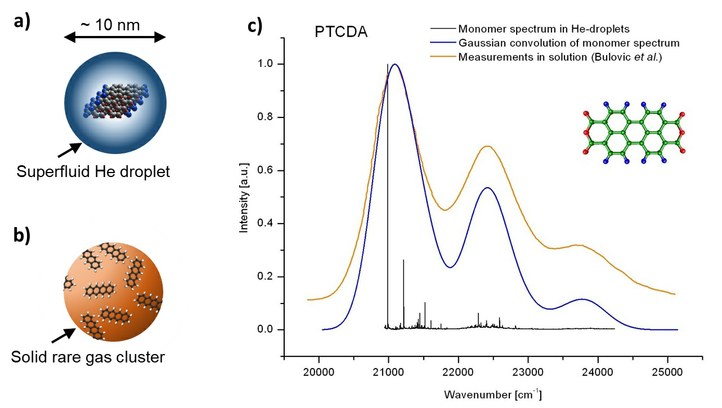 Figure 1: a) Molecular aggregates studied inside superfluid helium nanodroplets. )b Molecular networks studied on the surface of solid rare gas clusters c) Comparison of absorption spectrum of PTCDA in solution and inside He nanodroplets.
Relevant publications:
[10] Stauffert O, Izadnia S, Stienkemeier F, Walter M:
Optical signatures of pentacene in soft rare-gas environments
J Chem Phys, 2019; 150 (24): 244703-1-244703-9.: abstract - pdf

[9] Izadnia S, Schönleber D, Eisfeld A, Ruf A, LaForge A, Stienkemeier F:
Singlet Fission in Weakly Interacting Acene Molecules
J Phys Chem Lett, 2017; 8 (9): 2068-2073.: abstract - pdf

[8] Müller M, Izadnia S, Vlaming S M, Eisfeld A, LaForge A, Stienkemeier F:
Cooperative lifetime reduction of single acene molecules attached to the surface of neon clusters
Phys Rev B, 2015; 92: 121408-1-121408-5.: abstract - pdf

[7] Dvorak M, Müller M, Bünermann O, Stienkemeier F:
Size dependent transition to solid hydrogen and argon clusters probed via spectroscopy of PTCDA embedded in helium nanodroplets
J Chem Phys, 2014; 140 (14): 144301-1-144301-8.: abstract - pdf

[6] Dvorak M, Müller M, Knoblauch T, Bünermann O, Rydlo A, Minniberger S, Harbich W, Stienkemeier F:
Spectroscopy of 3, 4, 9, 10-perylenetetracarboxylic dianhydride (PTCDA) attached to rare gas samples: Clusters vs. bulk matrices. II. Fluorescence emission spectroscopy
The Journal of Chemical Physics, 2012; 137 (16): 164302-1-164302-6.: abstract - pdf - arXiv

[5] Dvorak M, Müller M, Knoblauch T, Bünermann O, Rydlo A, Minniberger S, Harbich W, Stienkemeier F:
Spectroscopy of 3, 4, 9, 10-perylenetetracarboxylic dianhydride (PTCDA) attached to rare gas samples: Clusters vs. bulk matrices. I. Absorption spectroscopy
J Chem Phys, 2012; 137 (16): 164301-1-164301-9.: abstract - pdf - arXiv

[4] Roden J, Eisfeld A, Dvorak M, Bünermann O, Stienkemeier F:
Vibronic line shapes of PTCDA oligomers in helium nanodroplets
J Chem Phys, 2011; 134 (5): 054907-1-054907-12.: abstract - pdf - arXiv

[3] Wewer M, Stienkemeier F:
Laser-induced fluorescence spectroscopy of N,N′-dimethyl 3,4,9,10-perylene tetracarboxylic diimide monomers and oligomers attached to helium nanodroplets
Phys.Chem.Chem.Phys., 2005; 7 (6): 1171-1175.: abstract - pdf

[2] Wewer M, Stienkemeier F:
Laser-induced fluorescence spectroscopy of 3,4,9,10-perylenetetracarboxylic-dianhydrid (PTCDA) in helium nanodroplets
J. Chem. Phys., 2004; 120 (3): 1239-1244.: abstract - pdf

[1] Wewer M, Stienkemeier F:
Molecular versus excitonic transitions in PTCDA dimers and oligomers studied by helium nanodroplets isolation spectroscopy
Phys. Rev. B, 2003; 67 (12): 125201-1-125201-5.: abstract - pdf
Contact:
Funding:
Deutsche Forschungsgemeinschaft